EZLoop Sip Server Solution



The EZLoop Enterprise SIP Server is a call control
server with IETF Standard Protocol SIP. This server has
the functions of a Registrar, a Proxy Server and a Call Router. It can also provide a NAT traversal when needed
in your network environment.

For the local network that EZLoop SIP Server locates, it can provide a NAT traversal service (NAT). The EZLoop SIP Server is designed to work with all sorts of SIP phones on the market and does not limit your choices by manufacturer or vendors. The IP telephony system will not only simplify your office space by combining your computer and phone on one cable, but will also provide you the flexibility to expand and grow your business.


Features

Offers easy administration through any web browser. Remote administration is easy.
Able to make revisions even there are active sessions
Provide wide range of SIP client choices
SIP-based: Provides wide range of interoperability with SIP compliant clients, gateways,
and third-party's SIP Servers
Works flexibly with Dial Plan, NAT traversal, Authentication, and Upper/Thru Registration functions in various types of network environments.
Software Specifications

EZLoop Enterprise SIP Server will receive REGISTER requests from either a client application or UA, and update its database appropriately. Using the registrar function,
you will be able to answer calls with any client through your unique SIP-URI.
EZLoop Enterprise SIP Server will route SIP requests from clients or other servers to the most appropriate SIP-URI address based on its register database. When a user cannot be located in the database, the Dial Plan rules can be used. If the routing resolves successfully at the proxy server, a caller can establish a call even when the final SIP-URI address is unknown to the caller.
Near-End NAT Traversal
The clients behind the same NAT as EZLoop Enterprise SIP Server can talk with clients behind the NAT utilizing EZLoop Enterprise SIP Server's Near-End NAT Traversal feature.
Far-End NAT Traversal
The clients behind other NATs can communicate with the EZLoop Enterprise SIP Server over the Internet utilizing EZLoop Enterprise SIP Server's Far-End NAT Traversal feature.
Dial Plan
You can make flexible routing rules by defining matching rules and filtering rules for headers and IP addresses in the SIP packets using regular expressions in this Dial Plan.
Session Management
You can check the status or terminate the active calls.
Logging
Logs for previous sessions can be viewed through a web browser.
Operating System
Linux Red Hat v9.0 with webmin administration interface
Hardware Specifications


CPU

Downlink: 10/100 BaseT Ethernet

System Memory

1x168 pin DIMM max. up to 512MB
-64MB SDRAM onboard (for 400MHz CPU)
-128MB SDRAM onboard (for 800MHz CPU)

Chipset

VIA VT8601T + VT82C686B

BIOS

Phoenix-Award BIOS with 2Mbit Flash

SSD

CompactFlash TM Type II Socket (512 MB)

Board Unique ID

Dallas DS2401 controller

Watchdog Timer

System rest and NMI; 64 Levels,
0.5 ~ 8 / 5 ~ 80 / 50 ~ 800 / 100 ~ 1600 Seconds

Extension Interface

Mini PCI Type-III socket (for 800MHz CPU ver.)

Battery

Lithium 3V/196 mAH

Size/Weight

203mm x 146mm/ 0.32kg

Temperature

0 ~ 60deg C, operation

Operation Humidity

105 ~ 95% relative humidity, non-condensing
Interface


MIO

2 x ATA-100 IDE (1x 40-pin & 1 x 44-pin), 1 x FDD,
1 x K/B, 1 x M/S, 2 x RS-232, 1 x LPT, 1 IrDA

Ethernet

4 x Realtek RTL8139C Fast Ethernet controllers,
one Gigabite LAN option

USB

2 x USB ports; USB 1.1a compliant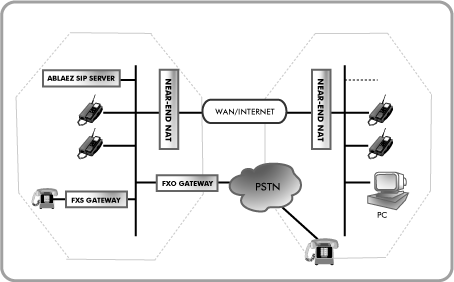 Hardware Features

Onboard low power VIA EBGA CPU
Quad Fast Ethernet, one Gigabite LAN option
2 RS-232 COM Ports
2 USB Ports
Board Unique ID
CompactFlash for low cost SSD
Optional Mini PCI for more feature expansions
Protocols and Performance

VoIP Protocol for signaling -SIP (RFC3261 Standard)
VoIP Protocols for delivery of voice-RTP, RTCP (When using NAT Traversal)
Routing Methods-Register database or Dial Plan
NAT Traversal-Proprietary method
Maximum Number of Concurrent Connections -(Concurrent connections available when tested a Pentium 800MHz with 128MB of RAM in 100M Ethernet network. Connection numbers may vary depending on network condition. Not using a NAT Traversal, will increase the number of possible connections.
Administration-Web-based
Download PDF Information