EZLoop VoIP Wireless (Wi-Fi) Phone



The EZLoop Wireless VoIP Phone is a next
generation communication device. It adds Voice-over-IP
(VoIP) communications with wireless installations, allowing simultaneous voice and data support on the same wireless backbone.

EZLoop Wireless VoIP Phone also features an LCD
display for business or home user applications, and provides straightforward user customization based on changing needs.

It is also good for ITSP, Multi-Branch offices or SOHO & HotSpot applications combined with wireless broadband accessing.

Features


Peer-to-Peer Dialing

Selectable Ring Melodies/Tones

Speed Dialing

Call Hold

Pre-Dialing

Call Waiting

Call Conference

Call Transfer

Authentication: MD5

Call Forwarding

DHCP: Gateway Dependent

Call Mute

RF & Battery Level Indication

Redial

Local Phone Book

Key Lock
Physical Specifications


Dimensions

5.5" H x 1.9" x 0.8" D

Weight

Around 111g

Display

LCD 112x64 Graphic Mode, Backlight

Buttons

0,9,#,*,8 function keys

Notification

Ringer/Vibration

Ports

Ear-Phone Jack
Network Characteristics


Protocol

TCP/IP; DHCP; IEEE 802.11b protocol

Security

Wired Equivalent Privacy (WEP) 64 & 128 bit

User Environment


Accessories

AC Adapter with Charger

Regulatory


EMI/RFI

FCC Subpart B/C, FCC SAR, CE,
VCCI, TELEC
Performance Characteristics


Call Contorl Protocol

SIP (RFC2543/RFC3261)

Codec

G.711/G.729a

Battery

3.6V, 1350mAhr Lithium

Battery Life

3.2hr talk time, 21-23 hr standby

Wireless Access Protocol

CSMA/CA

Frequency Range

2.4-2.497 GHz

Number of Channels

Up to 11 Channel

Data Rate

802.11b Direct Sequence Rate scaling
at 1,2,5.5, and 11 Mbps

Release Output Power

60mW peak

Range

1,000+ft./300+m outdoors and up to
295 ft./75.5m indoors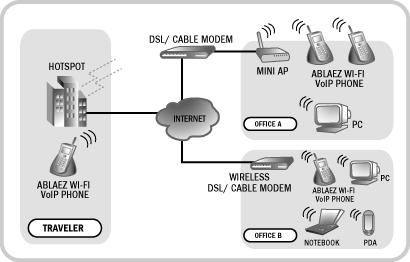 Download PDF Information